My daughter, Lisa, gave us a rescue pup for Christmas a year and a half ago.  Lisa told us that the pup was only four weeks old.  Well, he was very small, solemn and had zero interest in meeting us or making friends. The pup didn't have an interest in accepting food, drinks or treats from us.  He stiffened when I petted him and turned away from me.
I introduced the pup to Sally, my Italian greyhound/Bichon Frise mix and Sally licked the pup.  He stared at her without interest and turned away.
I set up his bed, with a soft toy, a blanket, in a large plastic pen and we went to bed.  I thought about including Sally in the pen mix, but she hates being caged and throws up if I cage her to travel, so I threw out that idea. There was no crying, no whimpering, no sounds at all from the pen.  I kept waking up to listen, but the room was silent.  Pete, my husband, slept on, but this pup unnerved me.  At four o'clock, I got up and opened the door.  I sat in front of the pen and invited the pup to join me.  The pup was not lying down.  He was sitting up, staring out at me, but totally still.
Okay, I was a stranger, the house was strange, but this was a baby!  I guess his stillness unnerved me.  In all my experience with pups and dogs, I had not met a pup like this.  Maybe he had been caged all his four weeks and yelled at if he whimpered.  Maybe he had no human contact previously.  I tried to lure him out with a treat, plain water.  The pup had no interest in anything nor me.
I reached in and gently pulled him out.  I didn't want to disturb my husband, so went into the spare room and lay on the bed there, cuddling the small pup.  I guess we both fell asleep, but I was awakened by a tentative lick on my face.  Yay, contact!
The next morning we had the vet check the pup out, who confirmed he was four weeks old and bought some cans of puppy formula for the pup we decided to name Jake.  The vet remarked upon his solemn behavior and tried to tease him to play, but Jake just stared at him, looking like a statue of a pup. Physically, Jake was healthy.  Mentally, the vet wasn't sure.
I am a believer that love is the most powerful component in owning a dog.  I showered Jake with affection, ignoring his tentative responses, praising his small efforts, and always being light and gentle with him.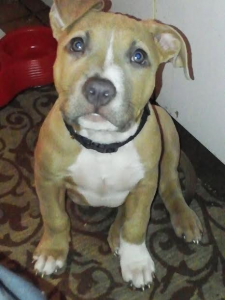 It was not long before he chewed my new boots, ate a couch cushion, and decided the wood work at the top of the stairs needed a trim.  Guess Jake was home.
Jake is now puzzling me yet again.  He is always talking.  Okay, I understand he is demanding some meat when we are eating dinner, whimpering when Sally gets to go for a walk and he is left behind, happy chatter when I throw a ball for him to retrieve, but at times, he sits before me and goes into this loud conversation.  The first time, even though there was food in his bowl, I offered him a can of Sally's Mighty Dog, which he ate.  It was not long before he was making so much noise, we couldn't hear the TV.  I did everything I could think of.  A walk, a rawhide bone, a game of retrieve, and would you believe he was still asking me for something, urgently.  I tried a cuddle, got a big face lick, and then he started up again.  Right, you may be thinking he makes out big time when he does this, but there is a note in his voice, urgent and demanding, and I just don't know what Jake wants.  He goes on doing this and I stopped trying to fix it.  Whatever I did, didn't seem to be what he was asking for.
Any ideas?  I really would appreciate them!
By the way, Kings River Life Magazine asked me for a post on Westies, which I sent to them.  So many people love West Highland White Terriers, so if you want to know more about this wonderful, cheeky little dog, check it out.
http://kingsriverlife.com/08/20/west-highland-white-terriers/
We suggested the Westie for Gemini in AstroPups, available on Amazon Books in paperback or Kindle.
Until next post 🙂