Happy Birthday to all Leos!
We have been working on the Leo chapter from the book AstroPups, available on Amazon in paperback or Kindle.  Initially we discussed Leo's personality according to the Zodiac, who Leo is as a dog owner, and then went into the breeds suggested for Leo based on Leo's sun sign personality. So far, we have discussed three of the dogs suggested for Leo.
Rhodesian Ridgeback.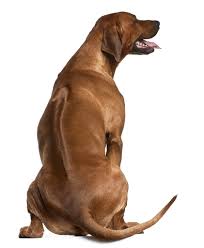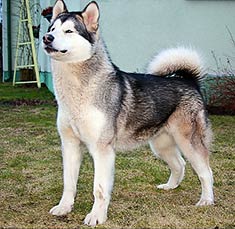 Alaskan Malamute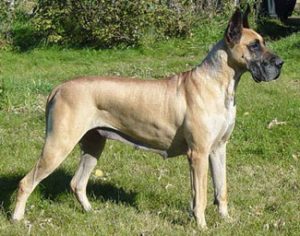 Great Dane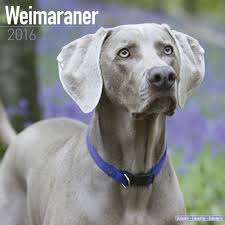 Now let's look at a sporting breed that we think would just right for some of you.
What a beautiful dog!  Color: gray. Height: 23-27″. Weight: 50-62lbs.
The spirited, graceful Weimaraner has a nickname among sportsmen.  They call it the Gray Ghost.  In the fields at dusk, light reflects off its metallic coat and its pale eyes shine.  There's nothing ghostly about its performance, though.  It's a superb gun dog and bird retriever.
There are several things you will particularly like about this dog, Leo.  Weimaraners train to the hunt much earlier than most hunting dogs and they excel at tracking.  If you are wondering how brave they are in unknown terrain, German hunters once used this breed to track down wild boar and hold them at bay.  The police recruit Weimaraners for their intelligence and they do well at show, especially at obedience trials.  As companions, Weimaraners are both protective and loyal.
Your strong personality and upbeat style of training is good for this breed, but most Weimaraners are sensitive to their owner's moods, so avoid training on one of your bad days. Lighten up when training and use your positive approach.  Losing your cool with this pup will confuse him or her.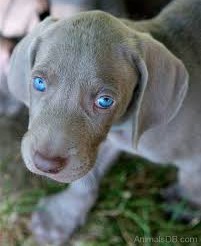 There'll be no confusion, though, when the pup catches on and performs well.  Your enthusiastic response will mean more to this pup than its reward treat.
Because Weimaraners have soft, fine coats, it is not wise to house them outside.  The cold does not affect them on a hunt, though.  They work hard enough to keep them warm.
Grooming is minimal.  Weimaraners do not shed, and some clean themselves, just like cats.
Weimaraners need exercise, but adapt well to apartment living.  You can take this pup home to wherever you live.
Nowadays, it is easy to get a purebred Weimaraner.  Back in the day when President Eisenhower had his beloved Heidi by his side, indiscriminate breeding occurred due to its increased popularity.
If you know someone who is lucky enough to own a Weinaraner, I found a great gift when browsing.  Check this out:
n
Weimaraners have the reputation of being good all-purpose dogs. this dog will strive to please you Leo, when mutual trust has been achieved. The breed has enough spirit, intelligence, speed and style to please even the most demanding among you.
If you want to rescue this wonderful dog, there are some in need of forever homes.  Check out the Rescue sites in your area. If you can't adopt at this time, perhaps you can volunteer or donate.
Thanks for coming back to my blog – appreciate your comments or you can email me (About Us, upper right).
Until next post:)