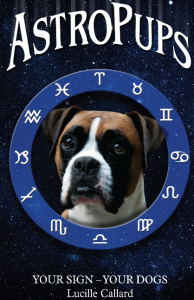 AstroPups is a unique guide to help people to learn about themselves as dog owners through their sun sign personalities, and to find a pup compatible with both their personalities and their lifestyles. Discover yourself as a dog owner, and your compatible pup, by studying your own sun sign chapter. You will have several breeds, described in full, to choose from. Peter Solomon, an award-winning artist, has illustrated the dogs for you. Sun sign personalities were explored with the guidance of Jacqueline Chapple, a professional astrologer, and dogs' breed traits and temperaments were thoroughly researched. Have fun exploring AstroPups, and finding the perfect pup for your sun sign personality.
10% of the proceeds from the sale of AstroPups is donated to No Kill shelters
People absolutely love this book! Check out some of the reviews below.
Top Customer Reviews
By Bman on February 14, 2009
Format: Paperback
I was really impressed with Astropups. I have two dogs of my own and picked it up for a friend who was choosing a dog. She loved reading about all the breeds that would be perfect for her personality and lifestyle. But I found that even as a reader not in the market for a new pup, that this book was a great read. I learned so much about my lab and boxer from reading this book and her summary about me as a Pisces was spot on. Lucille Callard really knows a lot about dogs! Well written and beautifully illustrated, this book makes a perfect gift for all dog lovers!
By Scorpio on February 7, 2009
Format: Paperback
I found this book to be fascinating. As a dog lover with an interest in Astrology, it covered both my areas of interest. I have never found a book that did that. The knowledge of dogs' breed traits and temperaments was extensive but easy to read. The illustrations were beautiful and I liked the Author's motivation to match the right dog to the owner's personality and lifestyle. Her pledge to donate to No-Kill Animal Shelters supports her desire to ensure that dogs and owners find the right match. What a perfect gift for friends!
By S. Peterson on January 19, 2009
Format: Paperback
For 35 years I've owned a variety of dogs…. Some were a good fit, and some were not. Never new why. I haven't owned a dog for a few years and was considering getting one but wasn't sure which breed. A friend recommended this book and mentioned it help with his selection. It was interesting reading about the various personalities and which breeds were a good fit for me. Now I'm in process of looking for the puppy it recommends.
By Dog Lover on January 20, 2009
Format: Paperback Verified Purchase
Such a clever idea! Deciding what kind of dog to buy is such an important decision. Choose the wrong one and both you and he are likely to end up miserable. I wish more people would look to Lucille Callard's Astropups for guidance – if they did, maybe the animal shelters would not be so full of pets who are wonderful, just not a good fit for their owners. This helps to give the dogs a fighting chance at a happy home!
By Mrs. J. Chambers on March 25, 2011
Format: Paperback
Whether you are a dog lover or not you can learn from this book,about their characters, their size, their shape, their temperament – then you can see how well a particular breed matches your character and temperment and which Ms Callard recommends for you according to your astrological chart. It is very engrossing and very well researched. The illustrations are an absolute delight – you need never be ignorant about recognising a dog, they are quite beautifully done. You do not need to be a believer in astrology to truly appreciate the contents of this book and I do believe it would make an admirable choice for any dog lover or as a present to any one with an interest in astrology.
About the Author
Lucille Callard has been a published writer for several years in addition to being a canine behaviorist. She has trained dogs for over twenty years. It is her love for dogs that prompted her to do the extensive research to enable her to write Astropups. Yearly, thousands of chosen puppies become dogs their owners no longer want. Through her work at rescue shelters and humane societies, she learned that these organizations save thousands of unwanted canines, but too many become victims of euthanasia. Ms. Callard hopes that Astropups will help people to choose the right pup the first time around.