Hi again, Leo.
We suggested Rhodesian Ridgebacks and Alaskan Malamutes for you in your Leo Zodiac chapter.  Our next suggestion for your sun sign personality is known as the Apollo of Dogs – the Great Dane.  This dog is only suggested for you if you can handle a very large pup that takes two years to grow out of its puppy stages, and will not be a mature dog until three years.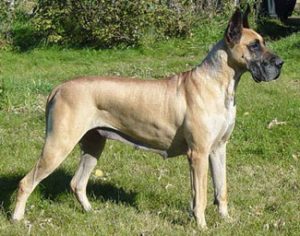 Colors: Fawn, blue, black, white, brindle, harlequin. Height: 22″-38″. Weight: 140-185lbs.
Although this breed's name implies that it comes from Denmark, and maybe it did at one time, this magnificent looking dog is now known as a German breed. The Great Dane is Germany's national dog.
History
Authorities differ on what breeds went into the creation of the Great Dane.  Some believe the Irish Wolfhound and the old English Mastiff were mated.  Others claim Greyhounds and Tibetan Mastiffs went into the mix. It is also thought the Bullenbeisser may be its ancestor.  The breed is reported to be about 400 years old, but some sources claim dogs similar to Great Danes were known in ancient Egypt, Greece and Rome. (Authorities in About Us upper right).
Famous Great Danes
We know you like a popular dog, Leo, and this one is famous in literature and in film.  The Guinness Book of Records named the Great Dane the tallest dog in the world, and in 2004 it was Gibson from California who took the honors, measuring 42.2″ from the withers. Zeus took the spot later measuring 44.0″ from the withers.
Other famous characters based on the Great Dane are Scooby-Doo, the Hanna-Barbera creation; Marmaduke, Brad Anderson's newspaper comic character; Butler the fawn Great Dane owned by Captain James T Kirk in Star Trek; Einstein in Disney's Oliver & Company; Ace in Batman Beyond; Mars and Jupiter in The Patriot; Astro in The Jetsons;  and Chester, Allan's dog in Two and a Half Men.
Some of you will admire this dog's size, dignified bearing, natural elegance and smooth, long stride.  It's truly a giant among canines. Its not surprising that Pennsylvania chose the breed for its state dog.
Color changes traits
Some breed's traits differ with the dog's coloring.   The heavier set harlequin Great Danes (white with black markings) are more aloof than the bouncier fawn and brindle dogs. Harlequins are less eager to please also. Black and Blue Great Danes can be stand-offish as compared with their fawn and brindle brothers and sisters.
Fawn Great Danes can be "soppy" in that they do not think being a lap dog is out of the question.  Even though it may settle for leaning against your legs, you could soon lose circulation this way.  Encourage your dog to sleep in a bed close to you.  Beds large enough for a Great Dane are hard to find in a pet store, but Amazon has one.
You can add something soft in it that has your smell on it like an old tee.  If you train this pup the right way, it will absolutely adore you.
Your Great Dane needs a handler, such as yourself, to control it from the start. Direct, firm and positive handling will ensure that your pup will reach its incredible potential. Remember, though, a Great Dane takes two years to grow out of its puppy stages.  Any harsh or punitive handling would be a serious mistake.
A romp with children is highly favored by the fawn or brindle variety, but unfortunately this pup may well knock its playmates down.  When trained and mature, the dog watches over the children with indulgence.
Great Danes have worked at many jobs – hunters, war dogs, police dogs, but if you want your Great Dane to be tolerant of other dogs and people, use his or her special imprint time.  At three or four months, take the dog for walks to meet and greet in pleasant surroundings.  This will not affect its ability to guard you, but will help the dog to be more relaxed with visitors for all of its life.
If you want this dog to give you undying love and loyalty, be the one who feeds it, walks it, trains it and brushes it.  It will then know you are Alpha, leader of its pack and the dog will serve you.
It's not wise to get a Great Dane if you live in an apartment.  Too small a space makes them territorial.
There are several Great Dane Rescue sites, looking for help.  If you can't adopt, consider volunteering or donating.
If you have the time to make this kind of commitment, you will have a splendid dog.  We hope you have enjoyed reading about the Apollo of Dogs.
Thanks for coming back to my blog.  I enjoy your comments or you can email me (About Us upper right).
Until next post 🙂