We are giving our readers a chapter from AstroPups (available on Amazon Books) to enable you to see how the book works. There are twelve chapters, each chapter is a separate sun sign. All those who have birthdays from July 24th to August 23rd. are Leos. Happy Birthday to all you Leos out there!
In our last two posts, we discussed Leo as a person via the zodiac, then who Leo is as a dog parent, and now it's time to discuss dogs suggested for Leo's sun sign personality.  The first breed is:
Rhodesian Ridgeback
Colors: Deep red wheaten, lighter wheaten.  Height: 24″ – 26″. Weight: 65-85lbs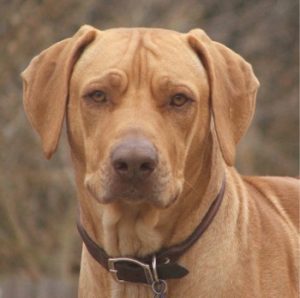 Since this dog is also known as the African Lion Dog, used for hunting down lions, and keeping them at bay, we'd like to turn the tables here. You, Leo, will be in control of this magnificent dog.
The Ridgeback's distinguishing feature is the ridge of hair along its back running in the opposite direction to the rest of its coat.  A native to South Africa, the breed was developed by Boer farmers.  The Hottentots had a hunting dog with a ridge on his/her back.  This dog was mated with the settlers' dogs which formed the breed we know today.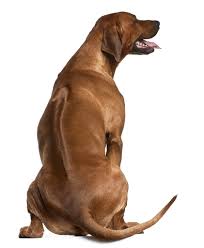 With its own family, the Ridgeback is a calm dog with clean habits and good manners.  You wont have to groom this dog a lot, but brushing the dog will help the bonding between you. Bonding with your Ridgeback is vital from day one. When treated with respect, this dog is capable of great loyalty.  It will protect you, your home and your family from all intruders. Your strong, direct but kind handling is the right way to go with this one, Leo, but avoid training the dog when you are in a bad mood.  It will not understand harsh treatment.  The Ridgeback is highly intelligent and will seek your approval. Be sure to have treats on hand when the pup does well.  Praise and treats work wonders.
Some breeders suggest that you do not get a Ridgeback if you have young children.  It does not tolerate careless and rough handling by youngsters.
The dog is definitely an aristocrat and has a natural tendency to be aloof with strangers. Socialize your pup at its special imprint time of three months.  Don't let this important time slip by and plan to do it later.  It won't work later, and it's especially important for this particular pup. Socialization will help the dog to tolerate visitors to your home and be more relaxed when they are there. This will not change its ability to guard you and yours.
Although Ridgebacks can be housed (kennel)outside, able to withstand all sorts of weather, they would prefer to live indoors with you.  Their prime need is to be your companion and protector. Left alone in the backyard for too long, they will get into mischief. If you do not have a high fence, they will take off for an adventure by jumping over it.  If you take them off the leash, make sure they are trained!  Wow, this dog is an amazing runner.
Ridgebacks come with black noses or liver-colored noses. The Ridgeback with the liver-colored nose is often more playful than the more dignified black nose variety.
Recognition by the AKC took place in l955.  Ridgebacks that have been socialized show well and have taken top honors. If trained well, the Ridgeback is always a winner, though, and a dog to be truly proud of.
Ridgeback Rescue of the U.S is a non profit organization looking for donations, foster parents and have dogs available for adoption.  I am totally in favor of rescue as you all know, but for you, Leo, I am recommending you get the dog as a pup, train it, allow it to bond with you, and you'll have a forever dog with intelligence and tremendous loyalty – something you particularly favor.
The Rhodesian Ridgeback is one of several dogs we suggest for you, Leo.  Come back soon and read about the next breed, which we think would be a compatible with your sun sign.
Thanks for coming back to blog.  Comments are welcome, or you can email me (About Us, upper right)  🙂