In a previous post, Yikes, Stairs! I told you about a dog ramp we built for Samantha, our senior Boxer, to enable her to get in and out of the backseat of the car.  I guess we were over-thinking this as she would prefer not to use the ramp.  In fact, since we introduced her to the ramp access, which she barely acknowledged, she jumps in with ease.   Guess she showed us! We know she will have no choice soon, but that's not now.
In the post, The Dog of my Dreams, I praised the Border collie for its intelligence, skills and for being intuitive.  I said that my niece, Mandy, who lives in England has a Border collie, Nelson, who loves to watch TV.  I was thinking about how Nelson runs to the right and left of the screen following the running dogs on the screen.  Could be he was just running with this pack, or could be he was trying to herd them.  What do you think?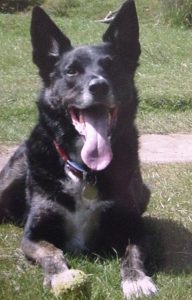 Mandy sent me some photos of Nelson.  She is sure he is a Border Collie, but he is definitely a Border Collie/German Shepherd mix, looking more like a German shepherd in this shot. Beautiful dog and no wonder he is so bright with both dogs' intelligent and intuitive breed traits.
Rescue Dogs
As you know, most of our dogs are rescue dogs.  Trixie was rescued because her foster home had a child who was allergic to her.  Wrigley, yes, we are Cubs fans, was named for Wrigley Field where, for those who do not know, is where the Cubs play home games. Wrigley was a German shepherd/pit mix. She was found homeless and starving in the south side of Chicago. It took a while, and she was always looking for food, unable to shake off those starving weeks,  but what a lovely dog she became.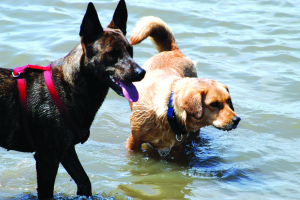 Yesterday, I was sent a very interesting and happy rescue story from Sarah who lives in Canada.  Her now l5 year old dog is partially blind, is deaf, and never leaves Sarah's side if she can help it..  Meet Tiff aka Sealy.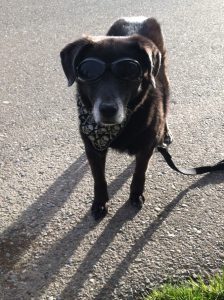 Tiff is a Labrador/Beagle mix. She was about seven months when she was first spotted running loose, trying to find food on the highway near a First Nations Reserve.  At first they could not capture her, and thought she could be feral as she feared people.  They finally captured the elusive Tiff in a cage along with a companion, a squirrel.  Tiff resisted their efforts to help her and bit the rescuer. At the shelter, she was spayed.  Unfortunately her heart stopped twice during surgery, but Tiff is made of stern stuff.  Now that could be the Beagle in her, as they rarely give up.
At l5, Tiff is very agile and bounds around the yard like a pup.  She is bright, intuitive and very affectionate. However, she is grieving over the loss of her best friend, Sarah's cat who died last Christmas.  It was time for Sarah to get a new friend for Tiff.
Meet Betty White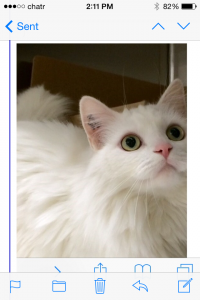 She was chosen from the SPCA photo files, but Betty lived at a rescue in Northern Canada.  Sarah lives in the western part of Canada, but she filled out the requisite forms, was approved, and flew to get Tiff's new friend.
We wish Tiff and Betty White all the best and commend Sarah for her love of animals and the lengths she will go to give them a loving home.
By the way, Sarah recommends bringing a cat or small dog in a soft carrier which can be stowed under the seat.  It is so less traumatic for the pet to travel in the cabin than in the bowels of the plane.
If you want to contact me, please leave a comment or email me. My email is on About Us, top right. Click on About Us and scroll down.  The banner of dogs remains for the post, About Us and Reviews of AstroPups.
Once again, thanks for coming back to my blog.  I hope you enjoyed tips and tails.  🙂