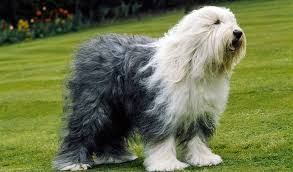 This dog is a wonderful companion with a devotion and loyalty to its owner that's hard to beat.  It's a very sociable breed and gets along with children. This is probably why the Old English Sheepdog was chosen to play Nana in Hook.  The dog was also Max in The Little Mermaid and The Little Mermaid II, but it has been chosen to fill many roles in movies and TV series.  If you want to check this out, there is list of all of his/her roles in Wikipedia under Old English Sheepdog.
The famous Bobtail is also a good guard dog, but not an aggressive breed unless mishandled.
The breed was developed in the west country of England where it guarded flocks of sheep. Some authorities believe that the Bearded Collie and the Russian Owtchar were used to create the breed back in the 19th century.  It has become popular in several countries because this robust dog is so darn lovable!  It will absolutely adore its owner, which is the main reason it will obey.  The dog learns and is trained through its need to please his or her owner.  When you show your love for this pup, it will turn itself out with happiness.
If you demand too much too soon and are aggressive, your Bobtail will become stubborn.  Train through love, and you will have a super dog.
Its nickname of Bobtail comes from its tail being docked very short. Shepherds are very practical.  When the sheep are gathered for sheering, the Bobtail is shorn also.  Guess that's one way to groom this breed as let's face it, it has an incredible coat which is a mud and burr magnet.  Since this dog loves to romp and play outside, you have to be willing to bathe and brush regularly.  It's important not to let its coat become matted.  Matting causes pain. Amazon has a good grooming kit with a bonus attached if you have a Bobtail and need one.
If you plan on showing your Old English Sheepdog, a groomer is advised unless you are talented in this directi0n.  Bobtails have won Best in Show on both sides of the Atlantic.  They show well and grin at the judges. Judges like a welcoming grin.
In Australia and in England, some call Bobtails "the Delux dog".  This is because Delux paint chose to feature the breed in their advertisements and commercials.
This dog can live anywhere you do – apartment or house in the city, suburbs or the country so long as shared walking is one of your activities. It will guard you with its low-pitched, but ringing bark.
People who own a Bobtail grin a lot when they tell you about their dog.  It is a very fun BFF.
We suggested the Bobtail for Cancer in AstroPups – available in paperback and Kindle on Amazon.
As with all breeds, some Bobtails have ended up in shelters and need owners. If you are interested in Rescue, check out www.oldenglishsheepdogclubofamerica.org/Rescue/
Thanks for coming back to read my blog.  My email is in About Us  if you want to contact me, or you can leave a comment.  Authorities contributing to my blog are also found in About Us.
Until next post 🙂