When I was in Seattle recently, I met Cedar, a female lab pup of about eight months old.  She was totally delightful.  Cedar reminded me of the labs in my life I had loved and lost.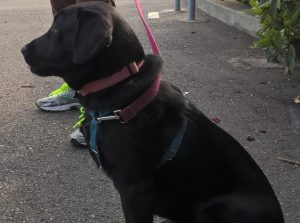 Her owner was giving her a good run in the park, just what this happy, energetic pup needs and I met them a couple of times as we strolled through the paths, enjoying the scenery.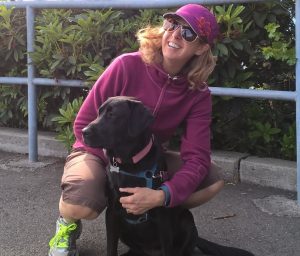 I decided right there and then that this pup had been adopted by a great owner, someone who enjoyed jogging, and someone who obviously loved her new dog.
One of the things I liked was that Cedar was wearing a harness.  It is the best way to walk a pup.  Young dogs tend to pull and if on a collar and leash, can hurt their necks.
A harness is inexpensive.  If you are looking for one, check this one out.
Seattle beach parks are full of dogs.  I met so many from toy breeds to giants.  The owners were friendly and grinned when I asked permission to pet their bffs.  I would have loved to do a photo shoot that day, but all we had time to do was to pet the happy pooches as we passed them.
I couldn't resist taking a photo of Cedar.  She was so like my black Labrador Retriever, Hector, as a pup and Tikki-Ti, my daughter's chocolate lab. She wriggled her whole body in greeting. I fell for labs when my sister married a man who owned one. The dog's name was Pal.  I was in college when my sister got Lucy, a black lab mix.
People who adopt labs into their families rarely regret it. It is no wonder that they are one of the most popular breeds in the U.S. and in England.
Labrador Retrievers originated in Newfoundland, were refined in Labrador and enthusiastically adopted by the British.  They are very popular as hunting dogs as they are tireless, good in the field and in water.
This dog wants to learn.  It is not hard to train a lab as the dog is eager to please.  As a pup, it may get too enthusiastic in its need to do the training correctly, but a few repeats and you will find your pup will quickly grasp what you want it to do. Always use the dog's name, one or two word commands, give praise and a treat and it works. Labs are really good at hand signals also. Initially, use the word commands with the hand signals, and soon you'll only need the hand signals.
The pup has a strong need to attach and will scamper after you wherever you go.  When you go out, it will miss you and bring you a gift when you return.  For hundreds of years the dogs were praised for bringing game back to their owners and the trait is bred into them.  Your dog will grab the nearest sneaker, glove or whatever it can reach in its enthusiastic welcome.  It would confuse the dog if you tried to stop its natural instinct. The dog will not harm the item and only wants to give you a present. Hey, you could be gone for only ten minutes, but the dog missed you and aims to please.
Black labs are more mellow than Yellow labs. They have a calmer temperament.  Yellow labs require an owner with a firmer hand.  And then there's Chocolate labs.  A Chocolate lab needs an owner who is willing to be fairly understanding about how exciting life is to this dog.  Everything is an adventure greeted with enormous enthusiasm.  All of the labs are fully trainable and are loyal, obedient dogs – well most of the time!
Labradors are protective of their own.  They may not get along with all breeds.  As a pup, it's a good idea to socialize them as much as possible with other people and dogs.  They are good with children and most people unless they take a dislike to a person for some reason of their own.  When one of my labs decided to growl at somebody, I got my own hackles up.  I mean, did my dog know something I didn't know about this person?
Which dogs they decide to dislike is another factor. Hector didn't like the neighboring poodle who persistently barked at him.  He didn't bark back at him, or growl, but what he did do really upset the owner.  I didn't blame her either.  She took her poodle for grooming regularly and was proud of her pristine white, beautiful dog, decked out with blue ribbons. Well, he was pristine until there was a bright yellow streak across his back.  When the poodle ran to the fence and barked at Hector, he lifted his back leg and peed right through the chain-link fence.
I had a talk with Hector about it. He hung his head. I think it's possible that my neighbors moved on account of Hector.
We suggested Labrador Retrievers for more than one sign in AstroPups (available in paperback or Kindle at Amazon books).  It's such a special breed.
A shout out to Cedar – it was great meeting you!
Thanks for coming back to read my blog.  If you have any questions or comments, please leave one (scroll down) and I will respond. You can also reach me by email, located in About Us, upper right of page. Click on About Us and scroll down.  The banner of dogs remains for the post, About Us and Reviews.
Until next post 🙂